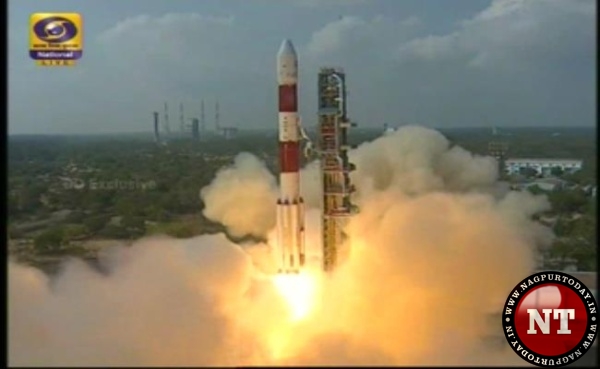 PSLV C37 is the 39th flight of the Polar Satellite Launch Vehicle (PSLV) series of rockets by the Indian space agency.
India's space agency broke the record for most satellites launched in one run Wednesday. The Polar Satellite Launch Vehicle PSLV-C37 left Earth sharp at 9:28 am from the launch pad at the Satish Dhawan Space Centre.
The rocket first put into orbit the 714-kg Cartosat-2 Series satellite, followed by the co-passengers - Isro's INS-1A and INS-1B, and 96 nano satellites belonging to two U.S. companies, and one each from Israel, Kazakhstan, The Netherlands, Switzerland and the UAE. The remaining 101 satellites are nano-satellites made in various countries such as Israel, Kazakhstan, the Netherlands, Switzerland and the USA.
There were also 3 Indian satellites, one India's indigenously built earth observation satellite and two nanosatellites of ISRO -- INS-1A and INS-1B. It then went on to inject 103 co-passenger satellites, together weighing about 664 kg, in pairs. This space mission by ISRO will make a significant presence of India in the world.
ISRO has used the heaviest version of PSLV in the mission.
The total weight of all the satellites carried on board PSLV-C37 is about 1378 kg.
Among the other satellites on the PSLV's payload were India's Cartosat-2 series satellite, which is capable of high-resolution imaging and aimed at Pakistan and China. "We are trying to maximising our returns", he said. Last June, India set a national record after it successfully launched a rocket carrying 20 satellites, including 13 from the US.
ISRO has so far launched 226 satellites, and of that 179 were from foreign countries.
All US satellites are from the earth observation company Planet, which was formed by former NASA scientists in 2010.
India president Narendra Modi praised the accomplishment on social media. So far, Russian Federation had the record of sending most satellites in the space. Earlier in June previous year, it got its earlier set of 12 "Doves" launched along with India's CartoSat-2C.
Share