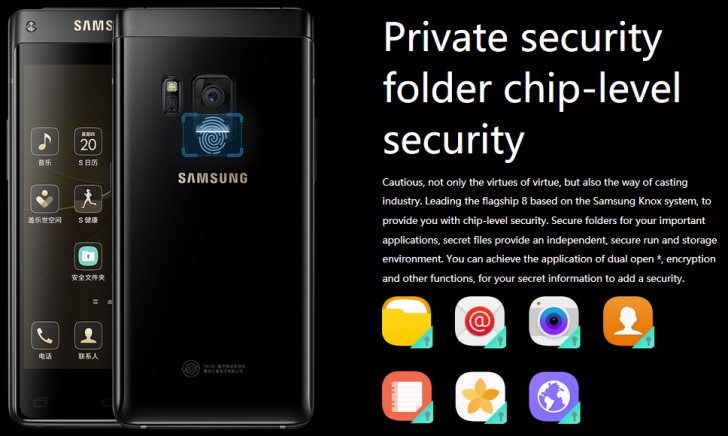 The new phone is the Samsung G-9298 or commonly called as the #Leader 8 or Leadership 8.
The new Samsung flip phone sports 64GB of internal storage with microSD card support.
The Samsung Leader 8 has a 12-megapixel main camera and 5-megapixel front camera.
Samsung has launched a high-end dual-screen flip phone in China which contains numerous company's latest features. The biggest change comes in the form of the faster Snapdragon 821 processor, with minor changes including things like a heavier body. For now, it comes in only one colour-black.
In terms of specifications, the device features two 4.2-inch full-HD Super AMOLED displays with 1080x1920 pixels resolution. The Samsung SM-G9298 packs 4GB of RAM.
There's now no word from Samsung as to how much the Leader 8 will cost or when it will be available, but don't expect it to be released anywhere in Western markets. The device's lights will be kept on thanks to the 2300mAh battery which is said to offer 238 hours of standby time and which will be charged via a wireless charging support.Some additional features on the Samsung Leader 8 include the proprietary Samsung Pay app, the Secure Folder feature, as well as a multi-function hotkey, which is user-configurable, and S Voice. These are dual SIM, 4G support, micro USB, USB 2.0, Bluetooth 4.1, WIFI 802.11 a/b/g/n/ac, and Global Positioning System.
There's also a rear-mounted fingerprint scanner which sits at the back, right below the camera and above the brand logo.
As of this writing, it seems that the smartphone may not be available outside of China. That device had a 3.8-inch display, a quad-core processor paired with 2GB of RAM. Similar to the Samsung Galaxy S8 and Galaxy S8+, the flip phone does not come with a dedicated button for Samsung's Bixby.
Share