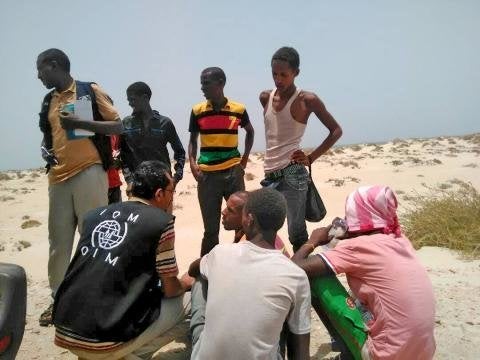 IOM medical personnel treated 27 survivors, who were both male and female, while a further 22 people that had been onboard are reportedly still missing.
Survivors tell migration officials the smugglers panicked and forced the migrants into the choppy sea when they saw Yemeni authorities as they approached land.
While these are the first incidents of their kind, Mr de Boeck said there were many other dangers facing the thousands of young migrants arriving by boat to Yemen every month.
IOM staff assist Somali and Ethiopian migrants who were forced into the sea by smugglers.
The organization says that around 55,000 migrants have left the Horn of Africa headed for Yemen since the start of the year, most travelling from Somalia and Ethiopia. More than 30,000 of them are under the age of 18 and from Somalia or Ethiopia. "Too many young people pay smugglers with the false hope of a better future", continued de Boeck.
The passengers' average age was around 16. Yemen is now going through a conflict and humanitarian crisis but the migrants go there to try to reach Europe or the Gulf states. "The smugglers are well aware of what's happening in Yemen, so it may just be they're trying to protect their own neck while putting other people's lives at risk".
"We condemn the acts of smugglers off the coast of Yemen - 120 Somali and Ethiopian migrants were forced from a boat yesterday, and another 180 today, the death toll is still rising", IOM Director General William Lacy Swing told MEE.
As per Laurent de Boeck, IOM chief in Yemen, fearing an arrest the survivors pushed migrants into the coast as some type of authority was in their line of vision. They didn't succeed, they went back home, but the parents didn't agree with the fact that they didn't succeed so they send them back. "So, the migrants had a choice", she said.
The route is significantly more affordable than the West Africa route through Libya and onto Europe.
Passengers on Wednesday's deadly journey told the United Nations migration agency that smugglers had returned to Somalia to pick up more migrants and bring them along the same route.
Share